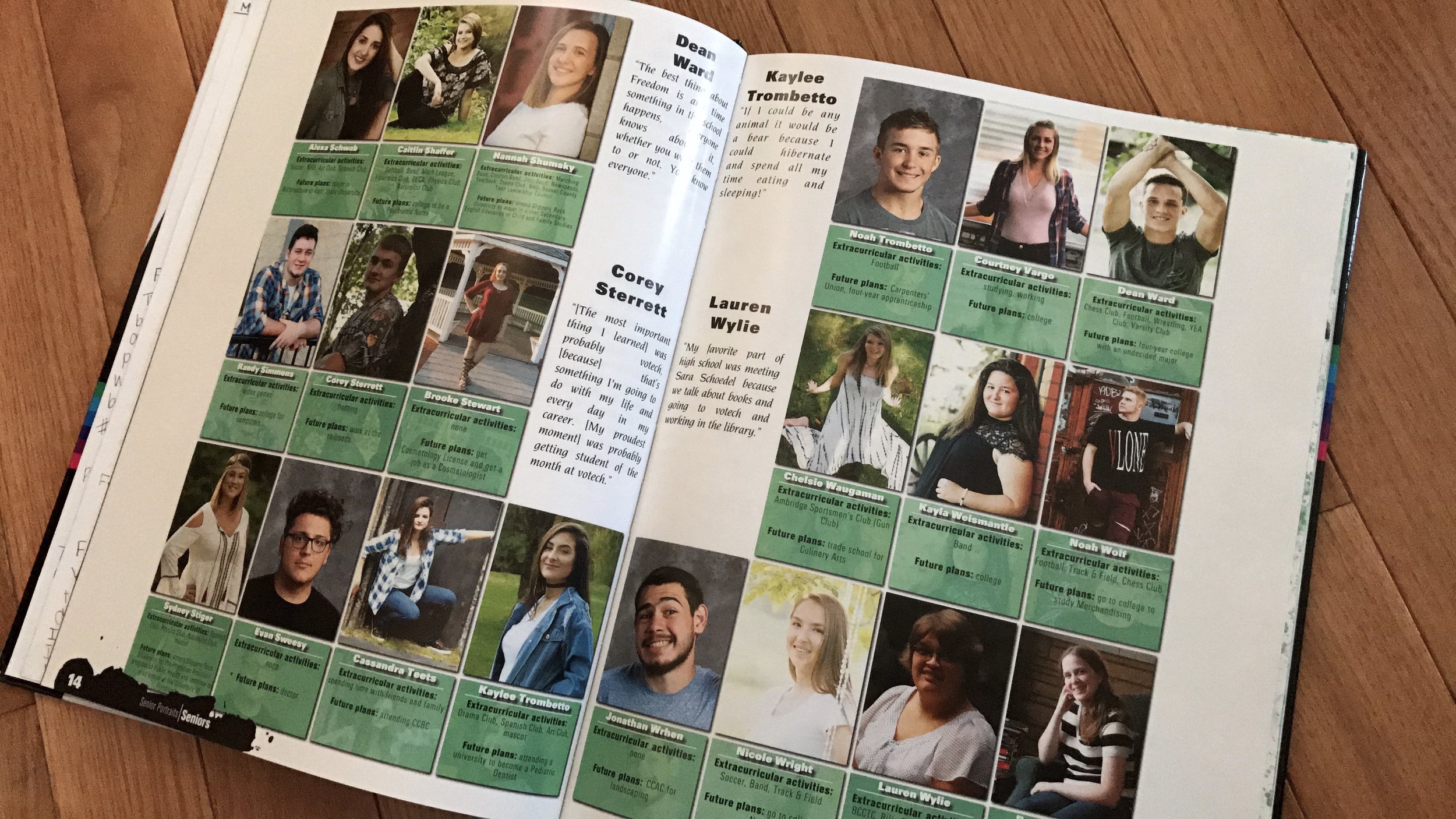 Senior Portrait Requirements
MINIMUM PHOTO REQUIREMENTS
While submitted portraits may be larger and have a higher resolution, we require all submissions to meet all of the following minimum requirements to ensure that your portrait will print in high quality.
DIMENSIONS
WIDTH: 640 pixels (or 2 inches)
HEIGHT: 800 pixels (or 3 inches)
RESOLUTION: 300

SUBMITTING YOUR PORTRAIT
Portraits may be submitted electronically via email, in person during regular school hours, or by mail.
EMAIL (PREFERRED):
YEARBOOK@FREEDOMAREA.ORG

IN-PERSON:
SUBMIT TO BUILDING SECRETARY OR DIRECTLY TO SHAWNEE STAFF IN ROOM 226

BY MAIL:
SHAWNEE YEARBOOK
1190 BULLDOG DRIVE
FREEDOM, PA 15042
CHOOSING A POSE & PHOTO
All portraits will be oriented vertically in the yearbook. While you are free to submit the portrait of your choice, please be aware that your photo may be cropped to fit our template.
PORTRAITS MUST:
+ FOLLOW THE FREEDOM AREA HIGH SCHOOL DRESS CODE
+ BE IN COMPLIANCE WITH THE RULES OF THE FREEDOM AREA HIGH SCHOOL STUDENT HANDBOOK

PORTRAITS SHOULD:
+ BE A HEAD AND SHOULDERS SHOT
+ AVOID HATS, SUNGLASSES, or ANYTHING THAT ECLIPSES THE STUDENT'S FACE
+ AVOID DISTRACTING BACKGROUNDS
CHOOSING A PHOTOGRAPHER
We work with dozens of professional photographers who take our students' portraits each year, and while the choice is entirely up to you, we'd like to introduce you to several local photographers with whom we've worked in recent years, are familiar with our portrait requirements, offer competitive rates, produce quality portraits, and support our student publications:
WHAT ARE MY OPTIONS IF I DON'T USE A PROFESSIONAL PHOTOGRAPHER?
For the best results, our experience is that you should consider a professional photographer/studio for your yearbook portrait. However, as that decision is entirely up to you, you may also wish to consider the following options.
LifeTouch Portrait
All students are required to have a photo take on Picture Day, whether or not they are interested in purchasing those photos, as those photos are used for their student IDs and with their permanent records. The Shawnee staff receives all portraits taken on Picture Day and Picture Re-take Day and can use your LifeTouch portrait in the yearbook should you opt not to utilize any other method.

Take & Submit Your Own
Should you opt to take and submit your own portrait, please shoot the photo in the highest resolution (DPI) possible on your digital camera, and refer to the minimum photo requirements and submission steps at the top of this page.

Shawnee Staff
The Shawnee staff is comprised of a number of very talented student photojournalists who are ready and willing to schedule your senior portrait photo session. While the photo session itself is free, all portraits from the session will be made available on our SmugMug website in a private, password-protected gallery, where you can choose your favorite shots and purchase prints and photo gifts. All proceeds benefit the FHS Press and Shawnee Yearbook.

Financial Hardship
If a professional portrait does interest you but you are experiencing a financial hardship, please contact our adviser:
Mr. Aaron Fitzpatrick
afitzpatrick@freedomarea.org
(724) 775-7400 x581